Check out our website for more information
Reflections Entries Are Due by
noon on October 20th.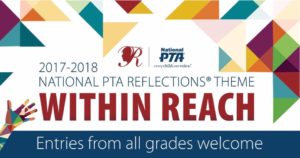 We are accepting them at 15th District PTA at CAP 9:00 am to 4:00 pm Monday, October 16th  to Thursday. October 19th and  Friday, October 20th from  9:00 am to noon.  Address is 319 South 15th Street, Louisville, KY 40203
We are working on the website.
It will be back to normal as soon as possible.
We are sorry for the inconvenience.