The Clothing Assistance Program (CAP) is a partnership between the 15th District Parent Teacher Association (PTA) and Jefferson County Public Schools (JCPS). CAP provides clothing to JCPS students and their families in need. Clothing is donated and provided free of charge to those families.  
  CAP HOURS
Monday – Thursday – 10 a.m. to 2 p.m.  
This applies to all general donations, family visits, uniform pickups, volunteer groups, clothing exchanges, etc.   
Help is always needed sorting, sizing, hanging, and organizing our donated clothing. Volunteer hours during the school year are Tuesday, Wednesday, and Thursdays from 10 a.m. until 2 p.m. Other hours can be scheduled.    
Upcoming Events  
Women's Unsale – May 16th 10 am to 2 pm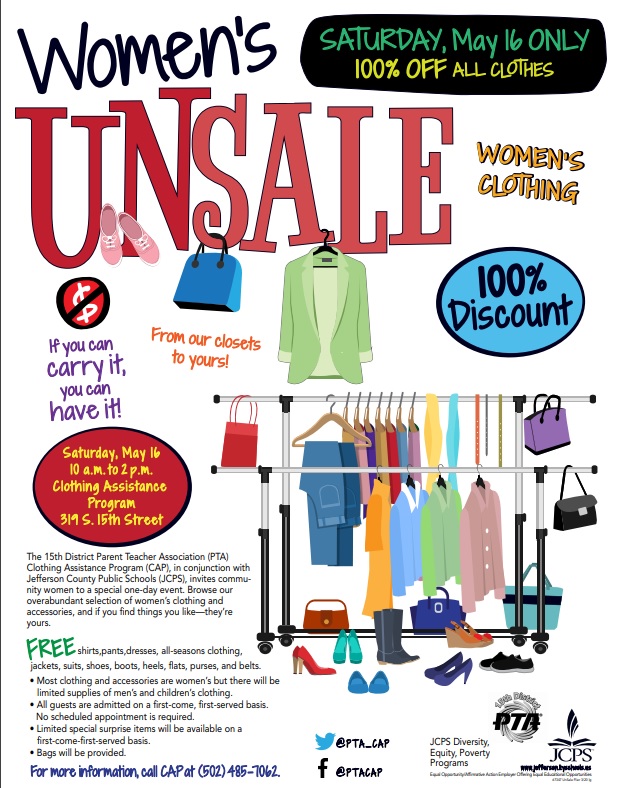 We continue to add to our offering for families.
In 2018 – we started offering new tennis shoes to our students.  We called the program "From the Group Up"  We wanted to make sure we were starting our students off on the right foot at the begin If you want to donate for the shoes you can do so here at the website – or at this link – From the Ground Up Donation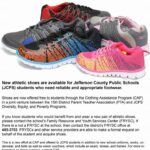 This year we are adding soap!
Supplemental Nutrition Assistance Program (SNAP) helps families with their nutritional needs such as food. This program is wonderful but does have limitation. SNAP does not cover any hygiene products such as soap.
15th District PTA has decided to add this to our offering for our families that come to CAP.  While this seems like a small thing to offer – it will be a big help to our families. 
If you would like to donate new soap or other health and beauty products – we will be sure to get them to our families.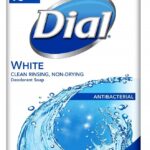 Some of our volunteers from the past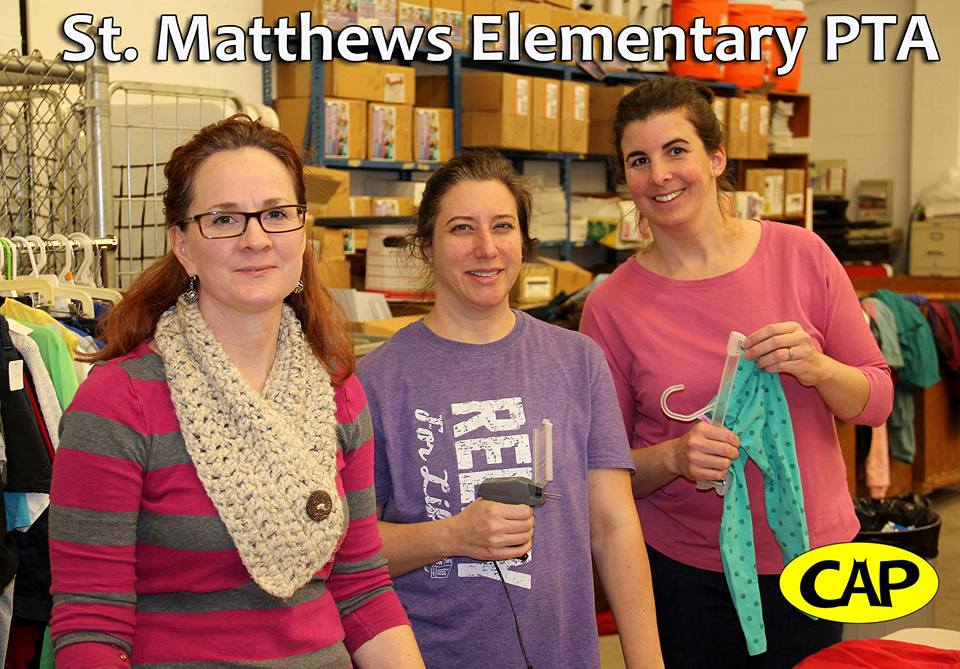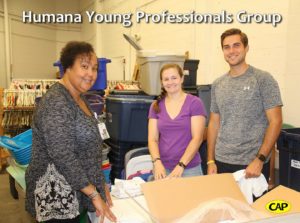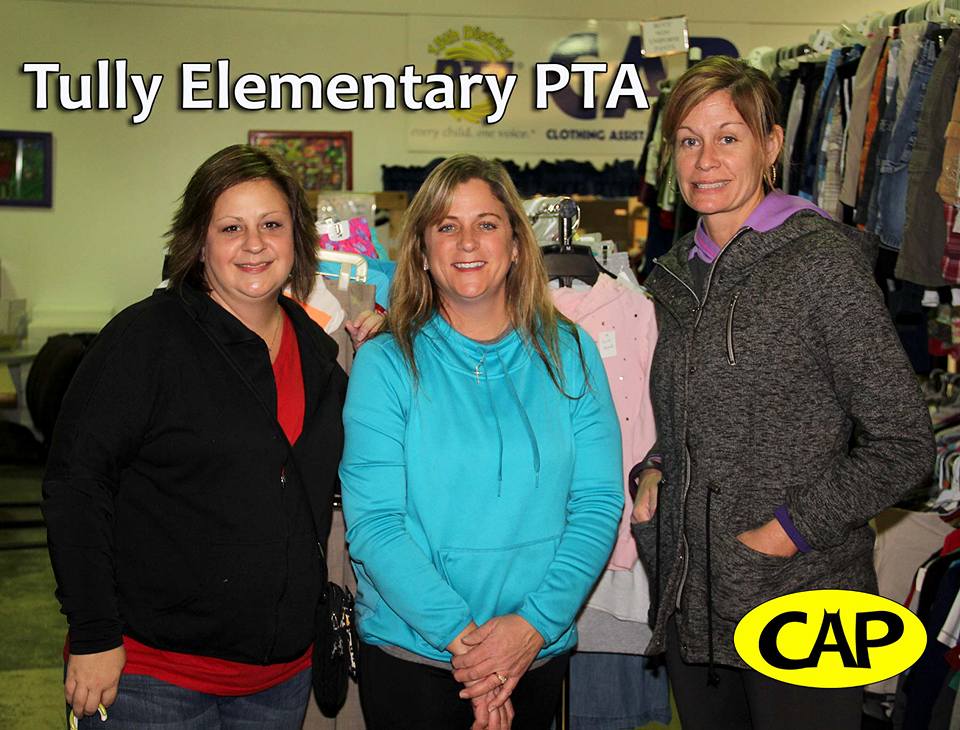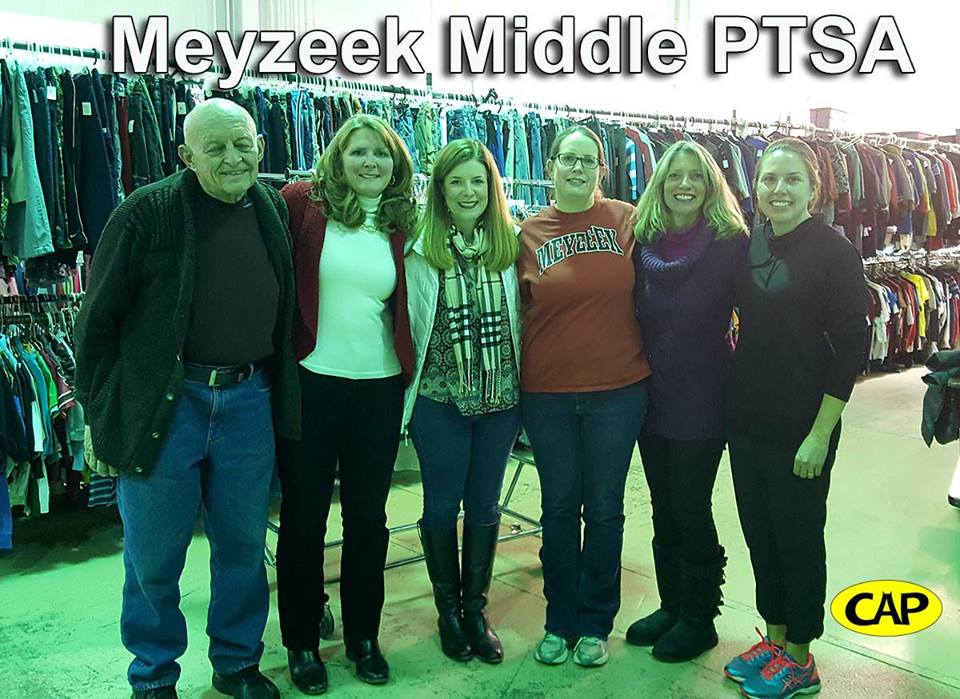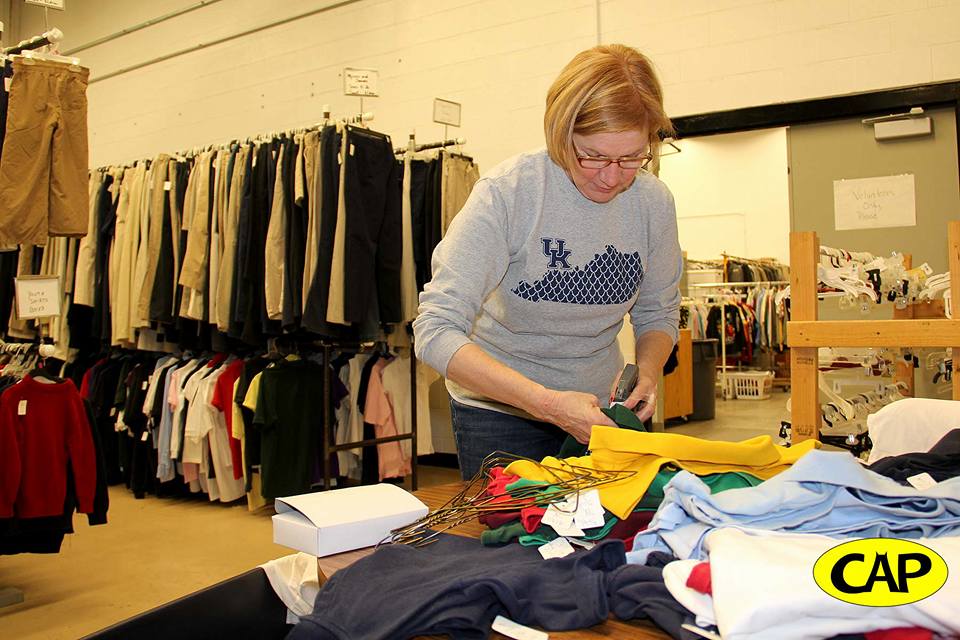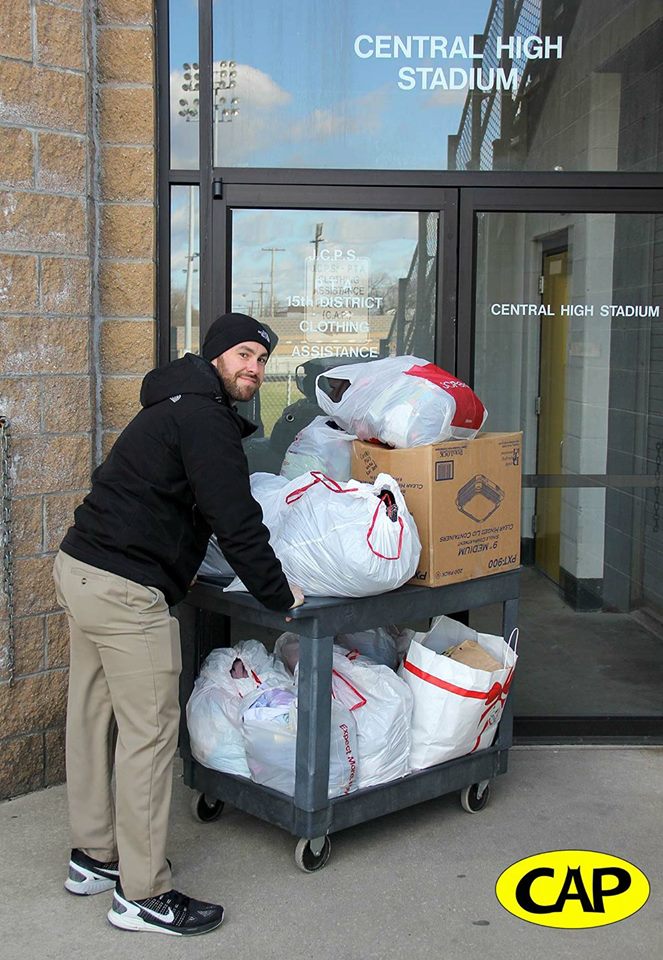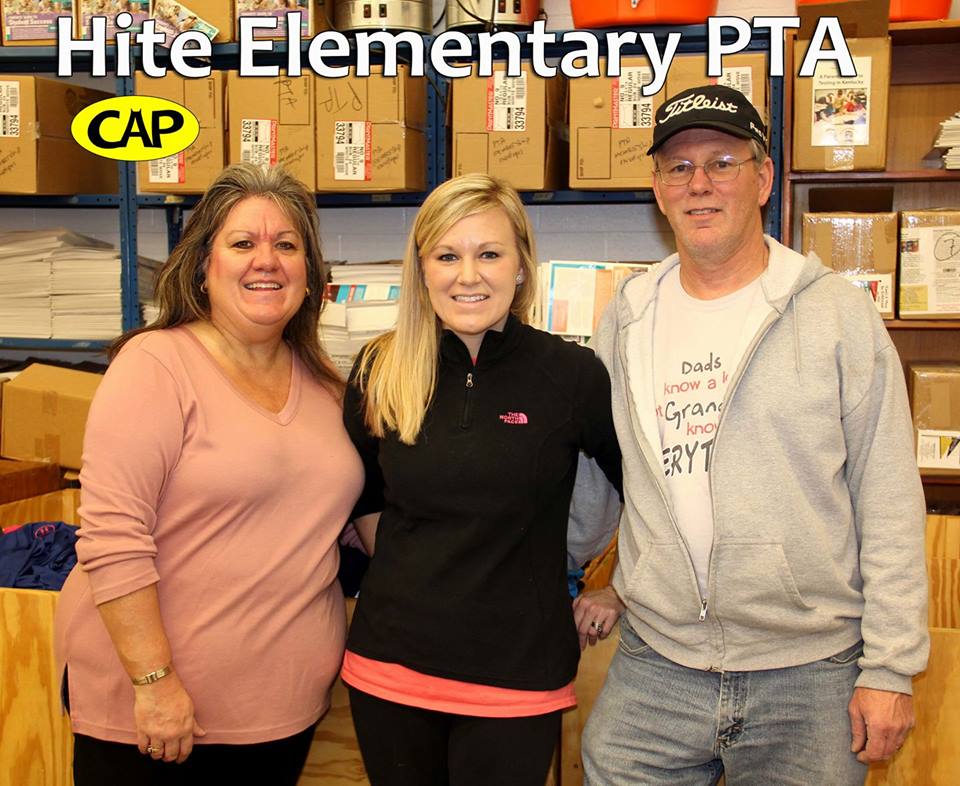 All Clothing Assistance Program appointments must be made by family resource coordinators. We do not take walk-ins, every person must have an appointment. Thank you!
Each local PTA is asked to send volunteers to work at CAP twice a year.  Volunteers are asked to work 2-3 hours between 10am-1pm.  It is critical we have schools send volunteers, as CAP is solely run by volunteers and we need everyone to make this program successful.
CAP is located at 319 South 15th Street. Going west on Muhammad Ali, take a right onto 15th Street and our entrance is at the end of the football field fencing before the next intersection.  If you have any questions contact us at (502) 485-7062 or [email protected].
---
Clothing Assistance Program
For over 40 years the 15th District PTA's Clothing Assistance Program has been providing new and used clothing to needy children who attend Jefferson County Public Schools. Many of our community's families face each new school year without resources to provide school clothing for their children. Kids today face many challenges and economically disadvantaged children have incredible barriers to overcome.
Most of the clothes are donated from local schools. Each school is asked to have one or two clothing drives a year for CAP. Funding for new clothing items come from cash donations from schools, PTAs, individuals and a few grant sources. Each local school is asked to send three to four volunteers twice a year to assist at the program (see calendar pop-down list below). This could include assisting clients, sorting, stocking and hanging clothes, ordering and tracking new inventory. Contact the Clothing Assistance Program at 485-7062 or 485-3535. Volunteers are needed!
Clothing for Interviews and Graduation
The Clothing Assistance Program is located at 319 South 15th Street Louisville 40203. Clothing suitable for college interviews, job interviews or graduation are also available for Seniors.
Clothing Donations Procedure
Donations should be sent in boxes.  Bags rip open and the clothes get lost, dirty or torn before we can sort them.  This is especially true for donations sent through the PONY.  Those donations must wait at the warehouse until several pallets are ready for delivery to us.  Boxes should be marked  15th District PTA CAP at Central Stadium with your PTA's Name as the "return address".  This helps us make sure that you are recognized for your contributions.  Boxes without return names will not be picked up by the PONY.
To arrange for a PONY pick up you will need to call Roger Mercer at 485-3362.  Please give them 2-3 weeks' notice before you want a pickup.  This helps them to set their schedule.  If you do not give them enough notice the clothes may need to be stored at your school for those 2-3 weeks.
We also ask you to fill out the form below and send in an envelope to 15thDistrict PTA CAP at Central Stadium separately from the donation so that we can be sure to record your donation.
If a tax receipt is requested, please get the donor's name and address and include with the form below and a letter will be sent to them.
Clothes do not have to be sorted but if you wanted to make this a project for student service hours that would be great.  Label the boxes as sorted with the contents if you decide to do this.
Please be sure that the clothes are clean, unstained and without holes or tears.  We also cannot use clothing items with tobacco or alcohol advertising. This will help us sort and get the clothes to the racks quicker.
If you want to drop off your donations please make sure that CAP will be open and let us know if you will need a cart or carts to bring the items in.  We will be happy to meet you in the parking lot.
CAP is no longer able to take Lost and Found items from the schools that have not been washed.  Please assist your Family Resource or Youth Services Coordinator or maintenance staff with this.
 Clothing Donation Procedure Form (pdf)
Facts about the 15th District PTA Clothing Assistance Program (CAP)
Mission
To reduce absenteeism by ensuring that students have appropriate school clothing.  We also provide gently used clothing for all family members.
CAP Staff/Facilities
Justin Willis, JCPS Parent Relation Specialist, office is at CAP and he is a driving factor of the program.  However, the program is too much for one person and it relies on volunteers to do the majority of the work.  There is a dedicated group of volunteers that come every week to help out and they are more like the coordinators of the volunteer program.  Most are retied JCPS teachers who know the value of the program for our students.    Community and PTA volunteers sort and hang clothes during the year. JCPS provides a spacious warehouse, transportation of donations, and more support than can be listed to ensure the continuation of this program
Clothing/Funding
Funding for new clothes comes from cash donations from community members, local PTA units, and a generous grant source given to JCPS to combat absenteeism.  In order to maintain the success of this program approximately $80,000.00 is needed.
Gently used clothes come from various sources including drives held by PTAs. We clothe the entire household so we need infant sizes up through Men's and Women's in uniform and non-uniform clothes.
Numbers For This School Year
From July 29, 2019 to February 21, 2020 
4, 034 students with uniforms
2,456 students with new shoes
2,302 families with new and gently used clothing
340 vision vouchers
Referrals/Clients
Students in need of clothes are referred by the school's Family Resource Youth Service Center coordinators or counselors or Neighborhood place coordinators. Appointments are made using an online system allowing the coordinators to make appointments quickly and at any time.
Students in schools requiring uniforms receive 1 new polo shirt and pair of uniform pants.  All referred students receive a belt and 5 pairs of socks and underwear. Students and their family members "shop" our family room and take as much clothing as they need for any member of their household.
We also have linens and household items for families that have lost their possessions due to fire, flood etc.