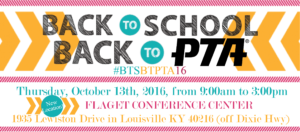 Hurry! Early Vendor Registration Ends Oct. 6!
Make plans now to sign up for a booth at 15th District PTA's annual Back to School/Back to PTA Conference in Louisville, Kentucky on Thursday, Oct. 13, 2016. Around 200-250 school leaders, representing our 140+ local unit PTA/PTSAs will be looking for fundraising ideas and programs for their PTA/PTSAs. This is your chance to get in front of ALL OF THEM at once! Door prize donations are also being accepted for additional visibility during the conference.Each booth space includes a 4′ x 2′ table and cost is $75.00. If you want electricity, it is an additional $25 (however booth space with electricity is limited). Set-up will start at 7:00 am on the 13th of Oct. and registrants will be coming through vendor's booths starting at 8:30 am. The conference will wrap up by 3:00 pm and we must be completely out of the room by 4:00 pm.
Application for booth space must be made using the Exhibitor Application Form and submitted to 15th District PTA with full payment. Acceptable forms of payment are checks or money order. If payment is not received with the application, the application will not be processed. Gain greater visibility and demonstrate your support for PTA via additional promotional opportunities at the 15th District PTA Back to School Back to PTA.
Questions, contact Kim Stevenson at waysandmeans@15thdistrictpta.org.
Sincerely,
Heather Wampler
15th District PTA President
Kim Stevenson
15th District PTA 3rd Vice President