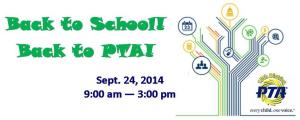 We want to invite all PTA board members and chairs to join us for the 15th District PTA Back-to-School/Back-to-PTA Conference, which will be held on Wednesday, September 24, 2014 at Gheens Academy. The sessions will run from 9:00 am to 3:00 pm.
We are honored to welcome special guest Ivelisse Castro, a National Service Representative from the Field Services & Training Department for National PTA.
Download the Registration Form here.